SERVING THE
BLACK COUNTRY SINCE 1988
Black Country Taxi Service - Covering The Areas in West Midlands
Black Country taxi service - Covering The surrounding areas of Cradley Heath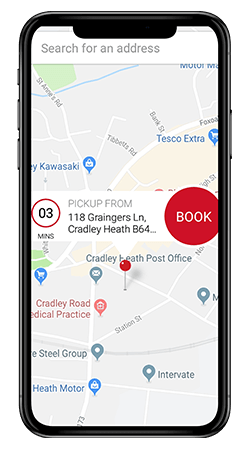 Punctual Pick-ups and Drop-offs
Whether you are looking for Airport Transfer, Executive Travel, Taxi Service, or Courier Delivery, we cater to all these services. All our drivers are DBS checked and are willing to go the extra mile to provide a smooth, reliable, and friendly service. We are extremely dependable, professional, and we offer a personal service.
Taxi Booking Service in West Midlands by Black Country Cars
We provide the cheapest and fastest taxi booking service in the West Midlands. With years of experience in taxi service, we are more than typical professionals, giving importance to your time. That is why we make sure that when you book a taxi from us, the taxi is near you and ready to pick you up. Thus, we save a lot of time and provide customer satisfaction. Get the fastest Black Country Cars Taxi booking service now!
The map opposite shows the areas in which we serve around the Black Country
Black Country Cars is affiliated with the following Taxi companies:
Black Country Cars | Providing a Dependable Service
On-Time Service
Black Country Cars aims to provide a complete service. Our teams are inclusive of experienced professionals, who ensure that you enjoy a comfortable ride. For us, punctuality is of the utmost importance, therefore, our drivers meticulously devise a schedule and follow it proficiently.
Trained Drivers
Due to our advanced years of experience in providing taxi services in the West Midlands, the drivers employed at Black Country Cars are well-versed in all the routes. Our experts take quick and safe directions to ensure that you arrive at your destination in due time.
Maximum Comfort
In addition to extending a quality service, our goal is to maximise comfort for all our clients. All our taxi fleet is affiliated with some of the top car companies, including Royal Cars, Dave Cars, Kelly Cars, Kings Cars and Speed Lines Cars.
Hygienic Conditions
We also take extensive measures to ensure that the vehicles are kept clean and maintained on a regular basis. Considering the current pandemic, Black Country Cars takes every measure to certify the safety of our clients. Our drivers also abide by all the SOPs to increase the welfare of our clients.
Licensed Professionals
We, at Black Country Cars, have attained all the relevant licenses required to provide taxi services in West Midlands. Additionally, our drivers are also DBS certified, which makes our taxi service trustworthy.
Affordable Services
Our goal is to provide you with an affordable but comfortable service. We charge reasonable fares, an estimate of which is provided when the booking is made. Additionally, with Black Country Cars, you can make a booking online or by giving us a call. Our responsive customer care representatives can reply to all your queries.
So, if you are in search of a reliable taxi service that covers all the regions surrounding the West Midlands, get in touch with our customer care teams today! We are a taxi company that caters to your every need!